Inspired by Sant Bhagwant Param Pujya Sahebji, Anoopam Mission is dedicated to serve all the creations of God for making their life positively better. Enriched with the insight of the paradigm of Akshar Purushottam Upasana, Anoopam Mission perceives every single creation of God as a creation embodying God's divine quintessence.
While serving the creations of God, Anoopam Mission also considers it to be its duty to gratefully recognize every individual, who make selfless contributions to positively better human life. Anoopam Mission believes that to respectfully honour such outstanding personalities is not only an inspiration to our social consciousness, but is also a service unto God!
Thus, the first Shalin Manav Ratna honour was conferred upon Lt. General Mohinder Mohan Walia of the Indian Army in 1994, who was the then General –Officer-Commanding-in-Chief, Northern Command. General Walia has valiantly served our Motherland Bhaarat, that is India, while protecting the lives and property of her children – the citizens – against internal insurgencies and foreign aggression, without fearing for his own life or his family's well-being.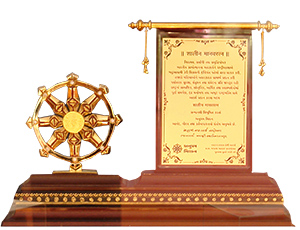 Following this, Anoopam Mission has honoured outstanding personalities, including at least one woman amongst them, every year since 2004 with the Shalin Manav Ratna. The honour carries a gold plated Citation Plaque, a very special Shawl and an Angavastram blessed through Pooja. It is generally presented to the recipient by revered dignitaries on the eve of the Indian festival of Dhuleti (the day after Holi), the birthday of Sant Bhagwant Param Pujya Sahebji, our Spiritual Guru and the inspirer of this honour. The contributions of Param Bhakt Professor Chandrakant Patel (USA), Param Bhakt Jitubhai Chandubhai Patel (Tanzania) and Param Bhakt Kishorbhai Liladharbhai Jobanputra (Uganda) in instituting this honour are gratefully acknowledged.
Year
No
Name
Country
Details
2020
1
Shri Devangbhai R Patel
India
Ipcowala, Nadiad
2020
2
Shri Prayasvinbhai B Patel
India
Chairman, MD, Elecon group of Industries, Vidyanagar
2020
3
Sushri Maunaben U Patel
India
Secretary, Shram Mandir Trust, Vadodara
2020
4
Shri Surenbhai Patel
Bangkok
Social Worker
2020
5
Shri Pravinbhai T Kotak
India
Chairman, Iscon Group, Ahmedabad
2018
1
Aacharya Shri Balkrishnaji
India
Master of Ayurveda and Yog Vice Chancellor, Patanjali Vishwavidyalaya, Haridwar Co founder, Divya Yog Mandir (Trust), Haridwar
2018
2
Sushri Ramilaben Gandhi
India
Dedicated towards girl children education and women empowerment Founder Member of Yoganjali Kelvani Mandal Ganeshpura, Sidhpur, Gujrat
2018
3
Shri Dr Tejusbhai Nayak
India
Pediatric surgeon Pediatrician working selflessly for the needy in the backward area of the nation, Amdavad, Gujarat
2017
1
Sushri Dr Naynaben Patel
India
પ્રતિષ્ડિત ગાયનેકોલૉજિસ્ટ, IVF ટ્રીટમૅન્ટનાં સફળ પ્રૅક્ટિશનર, ગુજરાતની સર્વપ્રથમ Human Milk Bank નાં પ્રણેતા
2017
2
Shri Dr Mohanbhai Patel
India
રાજર્ષિ, ચિંતક, લેખક સન્માનનીય પૂર્વ શેરિફ, મુંબઈ વૈજ્ઞાનિક સંશોઘન, વિધા તથા કૃષિ-પર્યાવરણ સંવર્ધક
2017
3
Shri Dr Tejasbhai Patel
India
પદ્મશ્રી, ઈન્ટરવૅન્શનલ કાર્ડિયોલૉજિસ્ટ, Transradial Interventional Techniqueના વૈશ્ર્વિક પ્રણેતા
2017
4
Shri Vasudevbhai Patel
India
પરિવાર સંવાદિતા તથા ગ્રામ્ય એકતા સંવર્ધક કૃષિ વિકાસના પ્રોત્સાહક, સમાજસુધારક, વિઘાસંસ્થા સમર્થક
2017
5
Shri Dr Tejanbhai Patel
USA
Fellow, SCAI, & American College of Cardiology પ્રતિષ્ડિત ઈન્ટરવૅન્શનલ કાર્ડિયોલૉજિસ્ટ, ઈન્ટરનલ મૅડિસિન સ્પૅશેયાલિસ્ટ
2017
6
Lord Jitesh Gadhia
UK
2016
1
Sushri Tejalben Amin
India
Chairperson, Navrachana Education Society, Vadodara
2016
2
Shri Amrishbhai R Patel
India
President, Shirpur Education Society, Shirpur & Senior Leader, National Congress Party Mumbai
2016
3
Shri Dr Harshadbhai M Desai
India
Motivator and Vice-Chancellor of Dharamshi Desai University, Nadiad
2016
4
Shri Pinakinbhai Pathak
USA
CEO, OHM International Inc, USA
2014
1
Shri Atulbhai Indravadan Lekhadia
India
Eminent Industrialist, Philanthropist and compassionate spiritual seeker
2014
2
Didishri Nirmalabahen Chhaganlal Raval
India
Distinguished contributor towards comprehensive welfare and upliftment of physical and mentally challenged girls
2013
1
Dr Sudhir M Parikh
USA
Indian American Physician, Philanthropist and Publisher
2013
2
Dr Nilesh Patel
USA
Indian American Outstanding Cardiac Surgeon and Philanthropist
2013
3
Shri Dr M C Patel
India
Former Provost 'CHARUSAT' University Changa, Secretary, Shri Charotar Moti Sattavis Lewa Patidar Samaj
2013
4
Sushri Niranjanaben Mukulbhai Kalarthi
India
Eminent Educationist Trustee, Swaraj Ashram, Bardoli
2012
1
Sushri Dr Swati Ajay Piramal
India
Vice Chairperson of Piramal Life Sciences Limited and Director of Piramal Healthcare Limited
2012
2
Shri Dr Vijay Bhogilal Dave
USA
Director, Medical Education, St. Mary Medical Center Member, Medical Education Committee, Lake County Medical Society Member, Board of Trustee, Lake County Medical Society President, Tenth District Medical Society, Lake and Porter County
2012
3
Shri Rajesh Girish Bhat
India
Managing Trustee, Swapath Trust
2011
1
Shri Vitthalbhai Jethabhai Patel
India
SBPP Sahebji's Shiksha Guru Educationist, D N High School, Charotar Education Society, Anand, Gujarat
2011
2
Sushri Dr Indira Jitendra Parikh
India
President Foundation for Liberal And Management Education (FLAME), Pune, Maharashtra
2011
3
Shri Chandravadan Shantilal Shah
India
Industrialist, Philanthropist, Chairman, Trustee of Ashaktashram Dakor, Dist. Kheda, Gujarat
2011
4
Shri Lord Dolor Popat
UK
શિક્ષણ, સ્વાસ્થ્ય સહિત અનેક સેવાકાર્યો કરનાર
2010
1
Sushri Dr Mrs. Mrunalinideviji Paur
India
Hon. Chancelor M.S.University Baroda, Gujarat
2010
2
Shri Sudhirbhai Indravadanbhai Nanavati
India
High Court Advocate & Social Worker Honorary Vice President, Gujrat Law Society Amdavad, Gujarat
2010
3
Shri Kishorbhai Liladharbhai Jobanputra
Uganda
Socialist & Philanthropic, Uganda
2009
1
Param Pujya Rambapa
UK
Honorable Saint of UK Shree Jignyasu Satsang Seva Trust, UK
2009
2
Shri Bhikhubhai Chhotabhai Patel & Shri Vijaybhai Chhotabhai Patel
UK
Industrialist & Pharmacist, UK
2009
3
Sushri Induben Kishorbhai Mehta
UK
Trustee, Asian Foundation for Help, UK
2009
4
Shri Rameshbhai Kansagra
UK
Industrialist, UK
2008
1
Sushri Dr Bhadraben Shah
USA
Project Co-Ordinator Share & Care Foundation for India, USA
2008
2
Shri Rasikbhai Harman Patel
UK
Chairman Afro – Asian Insurance Services Ltd., UK
2008
3
Shri Rasikbhai Ratilal Thakkar
Dubai
Industrialist, Social Worker & Philanthropic Dubai
2008
4
Shri Jashbhai Gordhanbhai Patel
India
Social Worker Dharmaj, Ta. Petlad, Dist. Anand, Gujarat
2007
1
Sushri Dr Amritaben Hirubhai Patel
India
Chairperson, National Dairy Development Board, Anand & Charutar Aarogya Mandal, Anand, Gujarat
2007
2
Sushri Dr Yoginiben Ramrai Mazmudar
India
Principal, Kanya Vinay Mandir Sanskar Thirth, Trustee, Ajol, Ghandhinagar, Gujarat
2007
3
Shri Ghelubhai Gulabbhai Nayak
India
Organiser, Swaraj Ashram, Dang, Gujarat
2006
1
Shri Bharatbhai M Vyas
India
Managing Director Gujarat Co-operative Milk Marketing Federation Ltd Anand, Gujarat
2006
2
Shri Dr Kiranbhai Chhotabhai Patel
USA
Eminent Social Worker, USA
2005
1
Shri Bhikubhai Zaverbhai Patel
India
Chairman, Surat Zilla Sahkari Sangh Surat, Gujarat
2004
1
Shri Chhotubhai Lallubhai Patel
India
Chairman, Charutar Vidya Mandal Vallabh Vidyanagar, Dist. Anand, Gujarat
2004
2
Shri Chandrakantbhai Babubhai Patel
UK
Publisher, Editor Asian Business Publication Ltd, UK Gujarat Samachar, UK & Asian Voice, UK
1994
1
Shri Lt. Genral Mohinder Mohan Walia
India
General Officer Commanding in Chief Northern Command, Indian Army