The Temple structure at Brahmajyoti has a unique history. Sant Bhagwant Param Pujya Sahebji, a protagonist with prime vision "modern education with religion" decided to divert all funds (initially allocated for an elaborate "Shikhar Baddh" mandir) to construct a women's college at Dhari, a very remote backward region of Saurashtra-Gujarat and birthplace of his guru Yogiji Maharaj.
The existing temple 'Parmita' is pyramid shaped representing that a single divine source is the 'cause and effect' of the universe beneath. In 1993, on the auspicious occasion of Anoopam Diksha Rajatotsav (Silver Jubilee Celebrations of Anoopam Mission), Parmita abode marble deities of Lord Swaminarayan, Brahmaswarup Gunatitanand Swami and Brahmaswarup Gopalanand Swami in the holy presence of Sant Bhagwant Param Pujya Sahebji, Param Pujya Pappaji and Param Pujya Hariprasad Swamiji.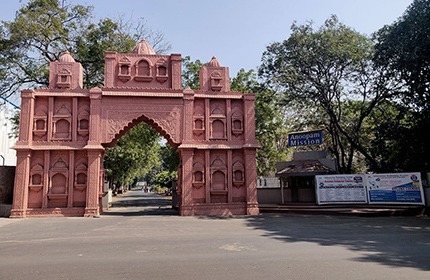 Anoopam Mission's head quarter known as "Brahmajyoti", is spread over 40 acres of land in village Mogri, at the outskirts of famous educational town of Vallabh Vidyanagar in Central Gujarat.
In the early 1980s, Anoopam Mission was aspiring to acquire land in Vallabh Vidyanagar for its expansion and social activities. This search concluded in village Mogri, outskirts of Vallabh Vidyanagar, at the existing site. Subsequently, it was realized that The Lord has bestowed this land, as Brahmaswarup Param Pujya Yogiji Maharaj himself had sanctified the meadows, while passing by. He had rested under a mango tree (now located at the center of the campus & called 'Hriday Kunj') and with His blessings, the adjacent well swelled with potable water to become the chief source for agriculture. Even till this day, the well supports ecology on this 'Tapobhoomi'.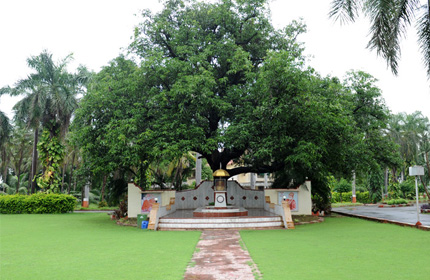 Spiritual Activities
There are several spiritual activities held at Anoopam Mission.
Daily Mahapuja, chanting, meditation and prayers
Sabha
Every evening, Sant Bhagwant Param Pujya Sahebji and other senior vratdhari sadhaks offer spiritual discourses on understanding of scriptures 'vachnamrut' and 'swami ni vato'.
Kirtan Aradhana
Vratdhari santo and devotees of Anoopam Mission orchestra an evening full of devotional singing with harmonious music on 7th & 23rd of each month, from 07:30 pm to 09.30 pm. Devotees from near by areas gather for this event.
Padhramni, Mahapuja and Prayer at devotees homes
Padhramnis' are personal visits made by Sant Bhagwant Param Pujya Sahebji and Vratdhari santo to the homes and businesses of devotees. They regularly travel across India for Mahapuja, prayers and impart comfort and guidance where required.
Spiritual camps
These camps are organized for all ages (age groups), periodically throughout the year, aiming at upliftment of life (soul) in all aspects. This is preached by selfless service to God, one's family and our community with highest values of religious tolerance (charity/acceptance), non-violence and love. Under the guidance of Sant Bhagwant Param Pujya Sahebji, vratdhari santo and disciples regularly undertake religious tours to various pilgrim places across India.
Celebration of religious festivals
Anoopam Mission celebrates with devotion, all major Hindu festivals, National events including auspicious days of Swaminarayan saints and events.
Other Activities
Anoopam Mission also conducts several other activities in the areas of Education, Healthcare, Social Welfare, Relief Works . The humanitarian service takes the form of Anoopam Mission's services for all of humanity (regardless of caste, color, creed or religion) in the areas of education, healthcare and social welfare.

Education

Health care

Community Service

Relief work

Environment