'MITRA' Rehabilitation Centre
---
Commencement: July 1993
Help children with special needs to lead a life with dignity and self respect
Mitra is a vision of Anoopam Mission's President Sant Bhagwant Sahebji Maharaj.
Mitra Rehabilitation Centre is one of the wings of Yogi Vidyapeeth, an educational nucleus of Anoopam Mission. Since July 1993, Mitra Rehabilitation Centre-the first of its kind in the whole Anand district is catering to the needs of the Differently Abled from infants to adults. Mitra Rehabilitation Centre is bound to satisfy the needs of the Differently Abled and it enables the disables to Step into the world. In this selfless service, our inspirer is Sant Bhagwant Sahebji-Spiritual Master of Anoopam Mission. Our aim is to provide exceptional services and training to the children with special needs to become self sustaining individuals. This will help them to lead their life with dignity and self respect to become productive members of the society.
Mitra Rehabilitation Centre is a non government organization, providing a day care program. Its uniqueness is in its services…….

Our Services
Disha – Child Guidance and Counseling Centre
Diagnostic Services
Early Intervention and Sensory Stimulation Program
Individualized Education Program
Homebound program
Integration Program
Professional Training Program
Parents Education Program
Consultation Services
Awareness Programs
Workshop
Vocational training program is conducted in the workshop having different workstations such as Embroidery and appliqué work, Tailoring, Jewellery, making, Paper bag, Envelopes, Decorative covers, Pen stand, Flower vase, Keyboard making, Diya making, Doormats, etc.
Special Education Program

Physical motor skills
Self help skills
Communication skills
Cognitive abilities
Computer skills
Social and Emotional skills
Domestic skills
Vocational skills
Leisure time activities.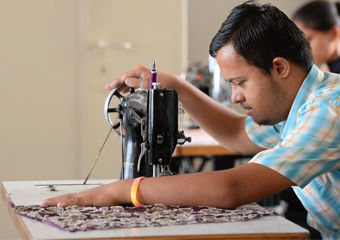 Our Achievements
Representation in Special Olympics at national and international levels.
Networking with professional groups.
Exhibitions of products made by the Differently Abled at National level.
Winner in dance competition at National level.
Placements of the Differently Abled in the community.
Employment of the Differently Abled in our centre itself.
Four Intellectually disabled students cleared SSC examination through NIOS.
Eight students are now abroad after receiving training in our centre.
Students who were integrated in the past are now pursuing higher studies and some are successfully employed.
Mission and Values
To help them to lead their life with dignity and self respect parallel to the community
To provide exceptional services and training to the children with special needs
We value network with professions, parents and those who volunteer to be part of our team
The team of professionals is committed to the work and to the quality of improvement
Our Future plans
Development of training and research facilities
Consortium services for educational equipments and teaching aids
Therapeutic mobile clinic to reach out in remote areas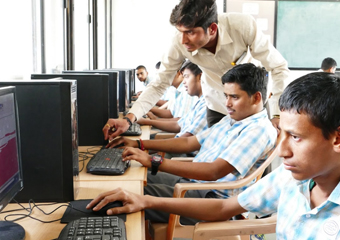 Contact
Pragnan Tirth
Sarvangi Shikshan Sansthan,
Old Mogri-Anand Road, Mogri – 388345
Dist: Anand, Gujarat, India