Earthquake Relief and Rehabilitation Work
---
A Major earthquake Disaster hit Gujarat with epicentre at 10 kms. from Bhuj on 26th January 2001.
Anoopam Mission had been the forerunner in providing relief to the earthquake victims by providing services to the worst hit victims from 27th January 2001 to 22nd February 2001.
Anoopam Mission provided immediate relief to 2,01,250 earthquake victims of highly devastated areas of 175 interior villages of Rajkot, Kutch-Bhuj, Porbandar, Surendranagar & Jamnagar Districts by providing them with –
Tents for shelter with Blankets
Sweaters
Thermal jacket
Clothes
Utensil sets, Stoves
Matchboxes, Candles and Torches
Water pouches, Water bottles, Water jars
Rice, Lentils, Tea, Sugar, Oil
Medicines, First aids and Water Purification Kits
Tents for school classes and tents rescue and relief wards for the earthquake victims. [Tents made by volunteer at Anoopam Mission, Mogri]
Provided requisite material to start 216 Class rooms for education of 15600 students of earthquake affected areas.
A temporary hospital and school was established at various towns and villages in the tents provided by Anoopam Mission.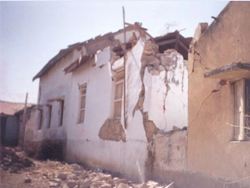 Keeping in view with their rehabilitation issue, Anoopam Mission has been running two long term rehabilitation projects namely –
---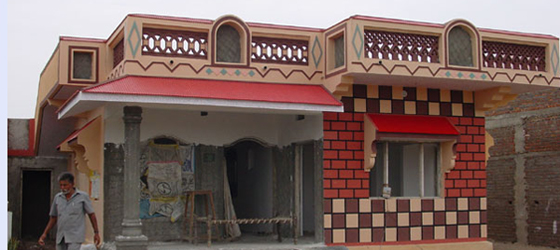 Rehabilitation Projects at Nana Dahisara, Morbi
'ANOOPAM NAGAR' the rehabilitated village by Anoopam Mission.
Nana Dahisara was totally demolished during the earthquake. Anoopam Mission started with the basic requirement and relief work and then started to built home for the villagers. By the divine guidance of Guruvarya Param Pujya Sahebji the whole village was rebuilt as 'ANOOPAM NAGAR'.
'Anoopam Nagar', Rehabilitation Project was started on October 19, 2001 for the 50 earthquake victimized families consisting of 270 family members.
The project work was completed with construction of 2BHK residences, roads, hall for social functions and cultural activities, entrance gate, street lights, tree plantation etc. as per the village map with built up area of 564 Sq. Ft. in a plot area of 3150 Sq. Ft.
The same was handed over on January 21, 2003 in the divine presence of Sant Bhagwant Sahebji.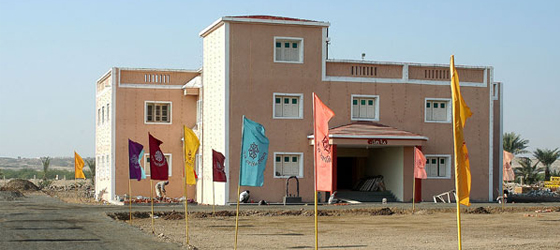 Rehabilitation Projects at Shinay, Kutch
'Dharma Bhakti Niketan' the rehabilitation project for earthquake victim orphan and widows.
Phase I
The project included Immediate construction of temporary residences with requisite Infrastructure by the help of IDRF USA.
Phase II
Anoopam Mission took up campus development project with an objective to provide permanent construction to provide shelter to the earthquake victim children.
Hostel building 'NILKANTH' completed in December 2005.
All earthquake victims who were sheltered and provided with all the basic amenities and infrastructure for their development and growth have completed their studies and are settled in their lives.
To utilize the campus, Hostel Building is now converted into a primary school for village children.
In April 2013, 'NeelkanthVarni Vidyalaya' primary school has been established for 1st to 7th standard students. The school is affiliated to primary education Government of Gujarat.
In near future, school is planning to include upto 10th Standard classes. That will allow maximum children of all nearby villages in taking advantage of school.
To know more about NeelkanthVarni Vidyalaya, click here.