Medicinal Plantation Program
Anoopam Mission operated a center for the conversation of Ethno-Botanicals, in-situ conservation and farm cultivation of Medicinal plants and Aridzone under the National Agricultural Technology Project run by the National Bureau of Plant Genetic Resources (NBPGR), New Delhi.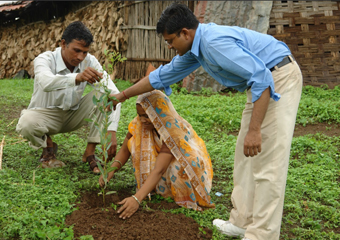 Tree Plantation Program
Green Environment Building
Every Year trees are planted in monsoon season in the tribal belt villages.
Eco friendly and supplementary plantation
Drive to provide health related natural products, fruit trees are planted and raised in the tribal belt villages.
Water Conservation Program
Anoopam Mission has undertaken this program since last few years of rain shortage. Anoopam Mission is educating the farmers & villagers to prevent wastage of water by propagating drip irrigation to the farmers of Dhari and remote villagers of Saurashtra (low rainfall area).
Encouraging tree plantation in forest and hilly areas to attract rains.
Encouraging to build underground storage tanks and store rain water at new building sites.
Encouraging villagers by providing technical guidance and financial support to build check dams for water preservation.