The main hall on the ground floor of the building was converted into the temple and 'pat murtis,' – painted murtis of the deities were placed. In 1989, on the auspicious occasion of golden jubilee celebrations of Sant Bhagwant Param Pujya Sahebji, the garbhagriha (inner sanctum) was built and marble deities of Lord Swaminarayan, Gunatitanand Swami and Gopalanand Swami were installed and consecrated by Sant Bhagwant Param Pujya Sahebji, Param Pujya Pappaji and Param Pujya Hariprasad Swamiji.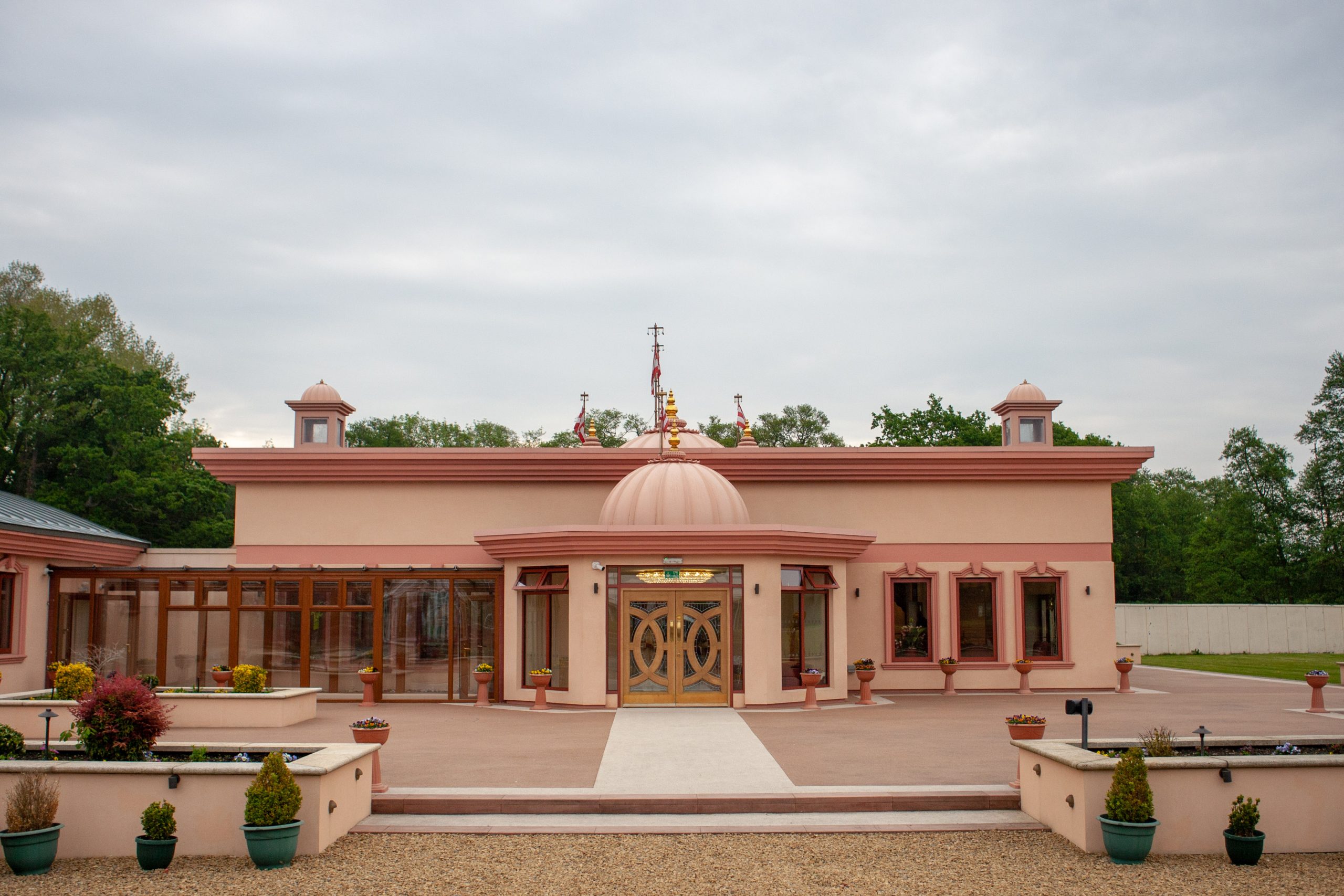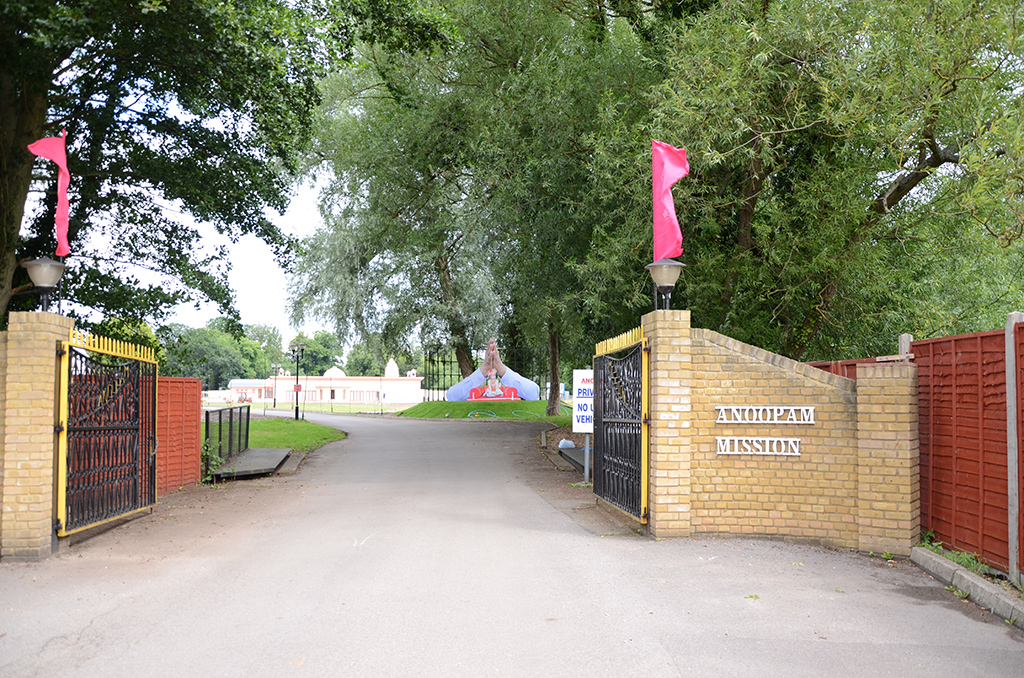 The main temple and headquarters of Anoopam Mission UK is based in Denham, near Uxbridge on the outskirts of West London
Anoopam Mission UK was established in 1978. At that time a small house in Wembley served as the Mission's base and temple. The premises soon became too small to accommodate the increasing numbers and thereby in 1980 the search for a larger place began.
Today Anoopam Mission stands on 14 acres of land. The land and buildings were previously occupied by an old people's home. Once when passing this particular piece of land, Pujya Sonaba had remarked that an open piece such as this should be sought. Later, an old lady who would often shop at Vinodbhai Nakarja's store casually told him that the property they were living in was to be sold. Upon enquiry it was found to be the same piece of land that Sonaba had pointed out. However, the land and buildings were in such a bad state that many had reservations about buying the property. When Pujya Dadukaka saw the property in 1981, he held Himat Swami's hand and firmly told him, "You must buy this, consider this to be Sahebji's word". The property was thereby procured in 1981. Through the intense effort of all the devotees, and Guruvarya Sahebji's loving guidance, the whole building and the grounds were transformed into the tranquil devotional haven that it is today.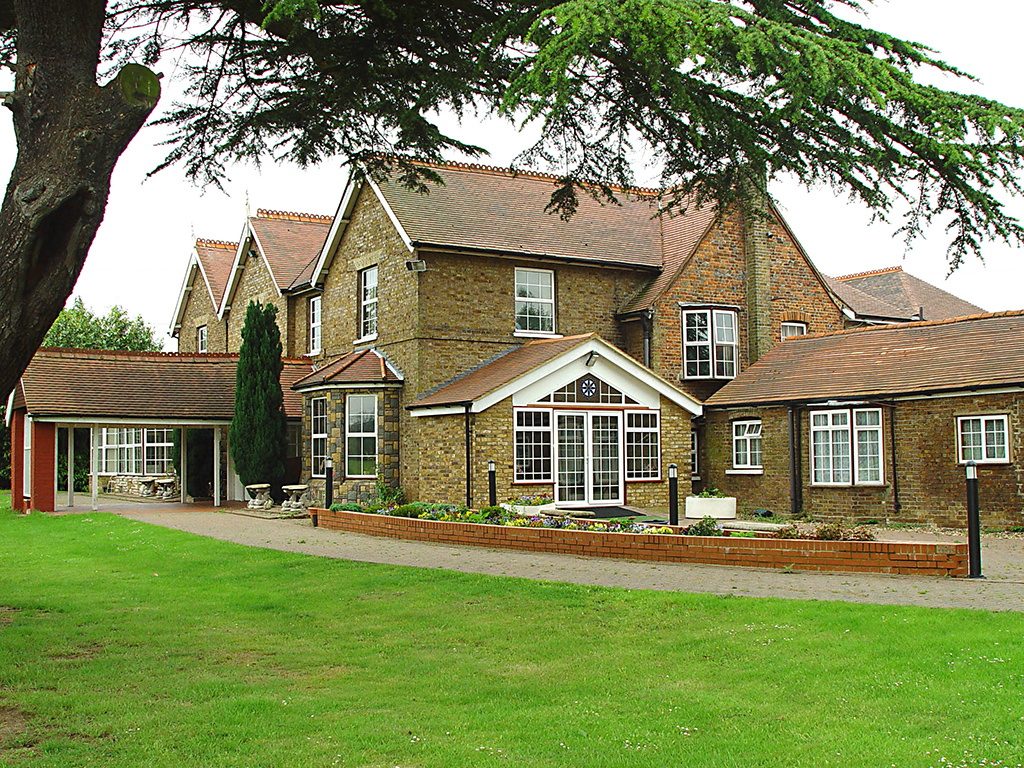 Spiritual Activities
There are several spiritual activities held at Anoopam Mission – UK
Sabha
Weekly Sabha every Sunday from 04:30 pm to 06:00 pm [Except last Sunday of the month]
Last Sunday of the month from 11:00 am to 01:00 pm followed by Prashad [Mahapuja and Sabha]
Spiritual camps
These camps are organized for all ages (age groups), periodically throughout the year, aiming at upliftment of life (soul) in all aspects. This is preached by selfless service to God, one's family and our community with the highest values of religious tolerance (charity/acceptance), non-violence and love.
Under the guidance of Sant Bhagwant Param Pujya Sahebji, Vratdhari santo and disciples regularly undertake religious tours to various pilgrim places across the country.
Kirtan Aradhana
Vratdhari Santo and devotees of Anoopam Mission, UK organises Kirtan Sandhya, an evening full of devotional singing with harmonious music. Devotees from nearby areas gather for this event on every 23rd of the month.
If this falls on a weekday then from 08.30 pm to 10.00 pm
If this falls on a Sunday, then from 04.30 pm to 06.30 pm
Celebration of religious festivals
Anoopam Mission,UK celebrates with devotion, all major Hindu festivals including auspicious days of Swaminarayan saints and events.
Padhramni, Mahapuja and Prayer at devotees homes
'Padramanis' are personal visits made by Sant Bhagwant Param Pujya Sahebji and Vratdhari santo to the homes and businesses of devotees. They regularly travel across country for Mahapuja, prayers and impart comfort and guidance where required.
Establishment and development of countrywide centers
Regular gatherings of devotees are promoted locally across the country, for prayer, chanting and reading of scripture.
Activities between centers are co-ordinated throughout the UK to assist in their development.
Countrywide centers serve as spiritual and cultural bases for all devotees throughout the UK, and also serve to keep children in touch with spiritual and moral values.
Other Activities
Gujarati Classes:
conducted by Anoopam Mission volunteer on a weekly basis
Support of Charitable Causes:
Anoopam Mission UK has been active in mobilising support for charitable causes such as child sponsorship and relief projects.
Summer youth camps:
To promote spiritual and cultural values among youth and families.
The Monte Memorial Tournament:
An annual football and netball tournament organised by youth in memory of Pujya Manojbhai Kachela, a sadhak who sacrificed his life saving another.