Activities
---

Anoopam Mission is an international spiritual cultural and community organisation and a public registered trust. It is grounded in the Swaminarayan faith, which fuels its drive to serve humanity selflessly.
Through the vision of its spiritual leader Sant Bhagwant Param Pujya Sahebji, Anoopam Mission works to elevate communities in every way, through provision of education, health-care, disaster relief, social welfare and cultural and community based activities.
Today, through these numerous activities, Anoopam Mission has reached out to change the lives of those most in need.
Education
Together We Empower
every child and adult in discovering their hidden potential by supporting broader access to education. Excellent leaders focus on innovative learning opportunities to empower students and transform their lives. Propelling individuals to find their place in a modern society, we:
Wholeheartedly invest in each student regardless of age and gender
Gain inclusive environments for the differently abled
Surpass social and economic barriers to accomplish this goal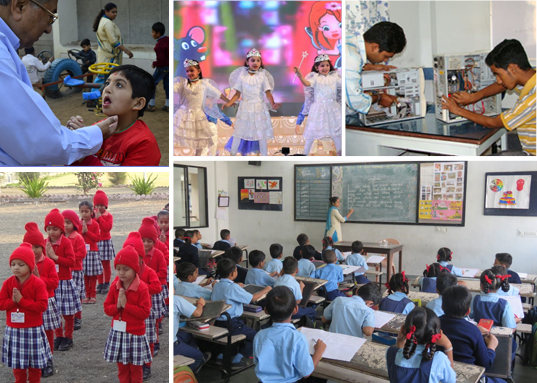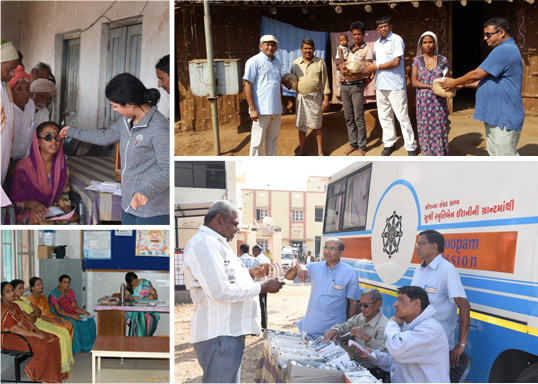 Healthcare
Together We Ignite
a philanthropic mindset for individuals to become agents for change. We harness advances in science to narrow current gaps in medical care, proactively addressing all populations. Recognizing public awareness to be the cornerstone to strengthening the health of a community, we:
Situate ourselves in underrepresented areas to maximize impact
Diagnose disease faster and more accurately
Identify barriers to safeguard the health of women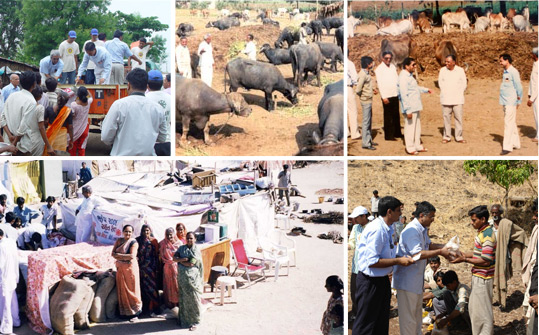 Relief Work
Together We Overcome
natural calamities by rebuilding the lives of people facing adversity. We seek to extend ourselves in regions ranging from impoverished and malnourished to flooded and earthquake-stricken. Humbly embracing our community as our responsibility, we:
Strengthen food systems to aid in physical and cognitive development, recognizing that proper nutrition is a neglected area of social relief
Advocate for rural economic defense against poverty by stabilizing agricultural lifestyles
Reinforce resilience in families during crises by building temporary and permanent shelters
Environment
Together We Sustain
our environment, protecting and replenishing our resources for the self-sufficiency of future generations. Our emerging leaders become informed and involved on how to move forward, expanding the growth potential of our country. Implementing a holistic approach to sustainability, we:
Invigorate rural economies by investing in water conservation in farming villages
Generate renewable energy to move towards net-zero infrastructure
Develop native vegetation and utilize ethno botany in a methodology that fuses traditional and modern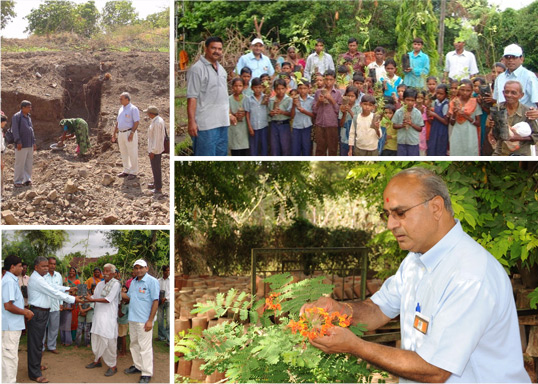 Support the Cause
Anoopam Mission is a non-profit organization. Using one of the following options you can support the humanity and contribute to the betterment of society.
Take a step forward
Inspired by our Spiritual and Divine Guru – Sant Bhagwant Param Pujya Sahebji, today Anoopam Mission is serving
selflessly, devotedly and working towards upliftment of the society.
Donations can be made by cheques payable to: ANOOPAM MISSION.
Legal Registrations :
Anoopam Mission is a Public Charitable Trust, Regd. No. E/1390/Anand. Dt. 03-09-2001
(Original Regd. No. Kheda / E / 2422dt. 13-8-1976) with Charity Commissioner, under Bombay Public Charitable Trust Act 1950.
Registered under Foreign Contribution Regulation Act, 1976, Regd. No. 042040035