Shree Swaminarayan Spiritual & Cultural Centre
This temple was built in 2002-2003 in the classical Hindu architectural tradition, with spires and domes. A three day celebration from 18-20th July 2003 marked the opening of the temple and the ceremonious installation and consecration of the deities. The temple is home to the marble deities of Anadi Mul AksharMurti Shree Gunatitanand Swami, Lord Swaminarayan and Anadi Mahamukt Shree Gopalanand Swami. It is one of the largest of the Anoopam Mission temples and the first built in this architectural style.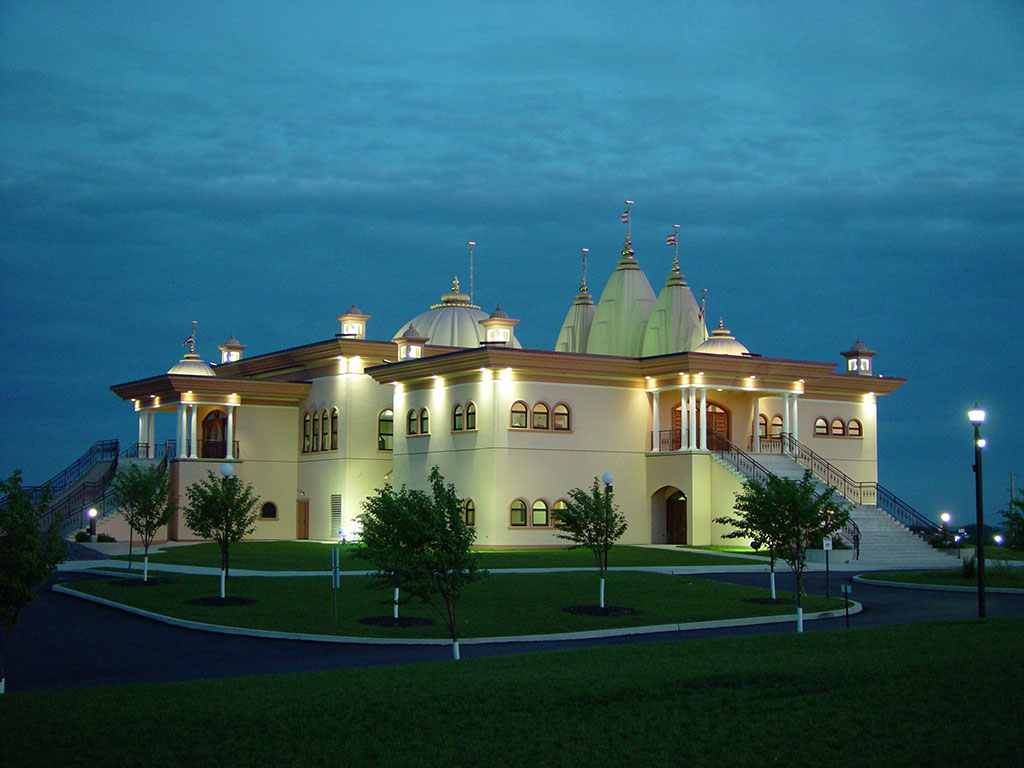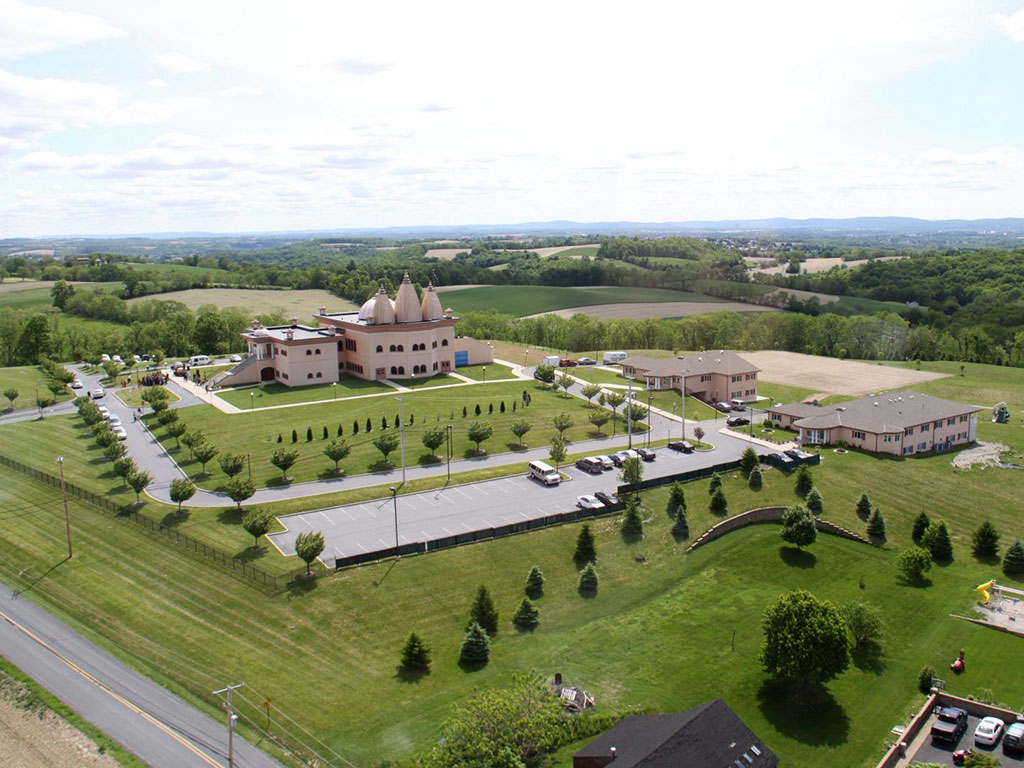 The 'Shree Swaminarayan Spiritual and Cultural Center' is the temple and headquarters for Anoopam Mission in the USA. It is located on a hilltop site in Coplay, near Allentown in the lush Pennsylvania countryside.
Sant Bhagwant Sahebji traveled to the USA for the first time in 1973 and every year since then, visiting devotees throughout the country. Anoopam Mission was registered as a trust in 1978 in Philadelphia and regular "sabhas" were held in both Philadelphia and New York city. With the organisation's activities growing steadily, a temple was established in 1993 in the Pocono Mountains in Stroudsburg. A medium sized residence set in 5 acres of land was bought, and this served as the temple and headquarters for 10 years.
A rapidly growing base of devotees facilitated the need for a new and larger center. It was initially decided that a new temple be built on the existing land, however, a series of providential events prevented this from taking place. The township ruled that Anoopam Mission did not have the appropriate zoning and therefore building permission was refused.
Sant Bhagwant Sahebji asked Pujya Kantibhai Khambaita (Architect) to look for a new site. Within two weeks, a hilltop site consisting of 20 acres of land was found in Coplay Pennsylvania, on which the mandir stands today. Surprisingly, the land was zoned for religious purposes and building permission for three community buildings. Shortly after this land was purchased, a message was received from the township informing Anoopam Mission that an error had been made in denial of building permission at the original site. The error seemed providential and led to the magnificent hilltop location of the new temple.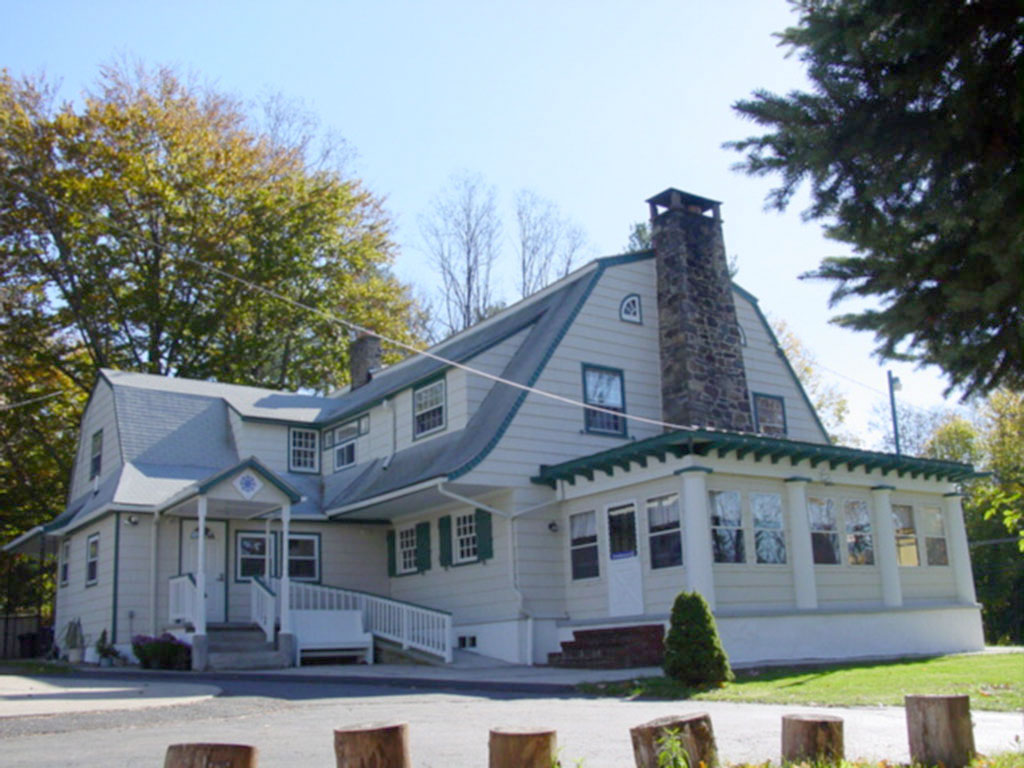 Spiritual Activities
There are several spiritual activities held at Anoopam Mission – USA
Sabha
Weekly Sabha every Saturday evening from 06:30 pm to 08:00 pm
Filled with inspirational bhajans, practical and insightful discourses by our spiritual leaders and readings from our most sacred scriptures (Vachanamrut & Swami Ni Vato)
Mahaprasad (Dinner) to follow the Sabha.
Spiritual camps
These camps are organized for all ages (age groups), periodically throughout the year, aiming at upliftment of life (soul) in all aspects. This is preached by selfless service to God, one's family and our community with the highest values of religious tolerance (charity/acceptance), non-violence and love.
Under the guidance of Sant Bhagwant Sahebji , vratdhari santo and disciples regularly undertake religious tours to various pilgrim places across the country.
Kirtan Aradhana
Vratdhari Santo and devotees of Anoopam Mission, USA organises Kirtan Sandhya, an evening full of devotional singing with harmonious music. Devotees from nearby areas gather for this event on THIRD Saturday of every month.
Celebration of religious festivals
Anoopam Mission, USA celebrates with devotion, all major Hindu festivals including auspicious days of Swaminarayan saints and events.
Padhramni, Mahapuja and Prayer at devotees homes
'Padramanis' are personal visits made by Sant Bhagwant Param Pujya Sahebji and Vratdhari santo to the homes and businesses of devotees. They regularly travel across country for Mahapuja, prayers and impart comfort and guidance where required.
Establishment and development of countrywide centers
Regular gatherings of devotees are promoted locally across the country, for prayer, chanting and reading of scripture.
Activities between centers are co-ordinated throughout the USA to assist in their development.
Countrywide centers serve as spiritual and cultural bases for all devotees throughout the UK, and also serve to keep children in touch with spiritual and moral values.
Other Activities
Anoopam Mission's new center provides –
A platform for wide ranging spiritual and cultural activities at the center.
It serves as a platform for the organization and co-ordination of numerous activities across the United States, expanding its efforts to bring spiritual harmony to families, individuals and youth in their daily lives.
It encourages dialogue and interaction between and amongst spiritual seekers of all faiths, with the aim to enrich spiritual understanding and co-operation.
The SSSCC will promote youth activity, spiritually and culturally.
Yogi Youth Camp
Drawing up to 400 youth every year, this camp provides youth with support and encouragement while promoting spiritual and cultural values.
The camp is a fun event consisting of discourse, discussion groups and debates along with sports, games and cultural activities.
Moral values and the ideal of service to one's fellow human beings and the larger community are instilled. The camp continues to be a huge success with youth.