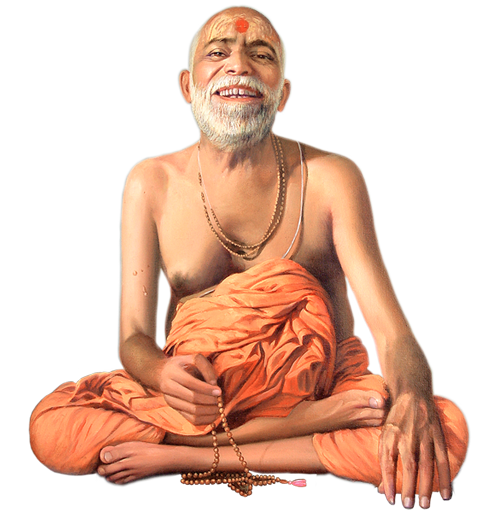 Brahmaswarup Param Pujya Yogiji Maharaj
Birth Day
Vaishakh Vud 12, Vikram Samvat 1948
( June 3 , 1892 A.D.)
Birth Place
Dhari, Dist: Amreli, Gujarat, India
Childhood Name
Jhino, Jhinabhai, Jhina Bhagat
Parents
Mother : Puriba
Father : Devchandbhai
Spiritual Predilections from Early Childhood
When Jhinabhai was pursuing his studies in the seventh grade in school, Sadguru Krishnacharan Swamiji came to visit Dhari. When he saw Jhinabhai offering various services in the temple with utmost dedication and deep reverence, Swamiji enquired, 'Jhina ! Would you like to dedicate yourself to God as His saint ?' Jhinabhai was exhilarated,' Certainly Swamiji ! You have actually proposed me something which I ardently desire!' Swamiji was very much pleased and blessed Jhinabhai.
Renunciation
At the age of 16, Jhinabhai renounced his worldly affiliations and left home for spiritual pursuits on Kartik Sood 7, Vikram Samvat 1965. (Sunday, November 11, 1908 A.D.)
Initiation as Parshad
On Kartik Sood 14, Vikram Samvat 1965, Krishnacharan Swami initiated Jhina Bhagat as a Parshad (a prelude stage to sainthood) in Junagadh.
First Meeting with Guruhari Shastriji Maharaj
On Shravan Sood 7, Vikram Samvat 1965, Parshad Jhina Bhagat had his first ever meeting with Guruhari Shastriji Maharaj in the home of Shri Krishnaji Ada in Rajkot.
Initiation as a Saint
On Chaitra Sood 13, Vikram Samvat 1967 (Tuesday, April 11, 1911 A.D.), Jhina Bhagat was initiated by Acharya Shri Shripatiprasad Maharaj in Vadtal who rechristened him as Sadhu Gyanjivandas. Initially, he was addressed by all as "Gyanji Swami", but later on due to his extraordinary humility and tendency to serve one and all, and due to his ever blissful personality devotees revered him as "yogi" or "Jogi".
Moving On from Junagadh
Yogiji Maharaj, along with seven saints, moved on from Junagadh on Jeth Sood 11, Vikram Samvat 1967 (Sunday, July 9, 1911 A.D.) to join Guruhari Shastriji Maharaj in the service of Shri Akshar Purushottam Maharaj.
Unimaginable Abjuration, Limitless Love and Universal Compassion
Brahmaswarup P.P. Yogiji Maharaj… slept on a jute bag of 2.5′ x 4.0 ' size on floor with his arm bent under his head to serve as pillow for 40 years !
never tasted ghee, milk or butter for forty years !
used to undertake three complete fasts per week !
carried out various jobs meant for at least ten persons all by himself cheerfully !
tolerated physical injuries, wordly abuses and psychological violences of innumerable persons, with a smiling face and a prayerful heart wishing for everyone's well-being !
Thus Spoke Shastriji Maharaj about Yogiji Maharaj
I am Yogi and Yogi is I.
There is no difference even of an atom between me and Yogi.
Vyasji has narrated 64 virtues of a true saint in the Bhagvat, all of those virtues and even those which Vyasji might have missed can be found realized in Yogiji Maharaj.
Yogi is the Yogi since the Genesis.
A saint like Yogi does not exist in the whole Universe.
Yogi is my ultimate resort in the severest of crises.
Yogiji Maharaj's Maxims
Maintain Unity, friendliness and integrity.
Learn to adapt to life as it manifests.
Be saintly and imbibe saintliness.
Devote yourself to God; May God do good to all.
Youth are my heart.
Divine Valediction
The physical body of Brahmaswarup P.P.Yogiji Maharaj bade farewell to this world at 13:00 hrs on Posh Vad 11, Vikram Samvat 2027 (Saturday, January 23, 1971 A.D.) in Mumbai (Bombay). (Age : 79 Years, 7 Months and 24 days)