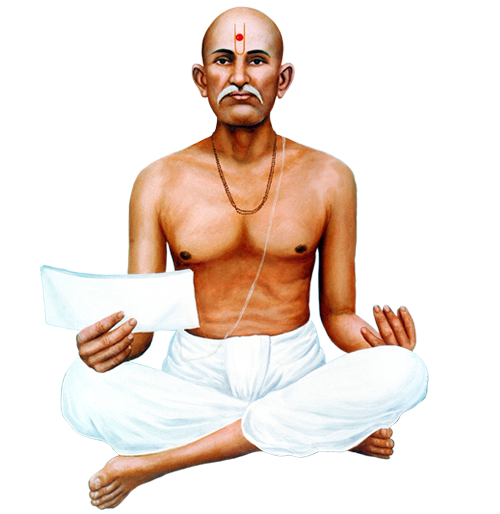 Brahmaswarup Param Pujya Krishnaji Ada
Birth Day
Shravan Sood 5, Vikram Samvat 1890
Birth Place
Mevasa village in the present-day Saurashtra region of Gujarat state in Western India
Father
Indraji Vyas
Family Life
Marriage: Vikram Samvat 1914 in Amrutvel village
Wife: Ladkiba
Sons: Vaijnathbhai, Madhavlalbhai, Mohanbhai
Inspirer of the Establishment of the Upasana and idols of Shri Akshar Purushottam
With the inspiration and blessings of Krishnaji Ada, Jaga Swami and Bhagatji Maharaj, Guruhari Shastriji Maharaj undertook a historic great stride from Vadtal temple and installed the first ever idols of Akshar Purushottam, i.e. the idols of Gunatitanand Swami (Akshar) along with that of Bhagwan Swaminarayan (Purushottam) in the centre place of the sanctum sanitorium of a newly constructed temple in Bochasan on Vaishakh Sood 10, Vikram Samvat 1963. These idols were crafted out of a mix of five metals and are therefore known as Panchdhatoo idols. With the accomplishment of this divine ordain Krishnaji Ada urged the devotees to shed their fear and reluctance adopting true Upasana. He roared, 'The knowledge about the true Akshar Purushottam Upasana, which was till now restricted in the corners of few scattered pockets has now come out into the open with its magnificently brilliance in Charotar. Those who aspire to enlighten their consciousness with that knowledge should visit the great holy land of Bochasan.'
Divine Valediction
At the age of 79, the physical body of Krishnaji Ada bade farewell to this world on Aaso Sood 11, Vikram Samvat 1969.
Samadhi Memorial
On the banks of River Aji in Rajkot Town in the present day Saurashtra region of Gujarat State.
Krishnaji Ada's Maxim
Nane se Nane Ho Rahiye, Jaisi Nani Doob;
Ghas Phis Sab Ood Gaye, Doob Khoob Ki Doob.
Remain humbler than the humblest, like the forb Grass and other vegetation get uprooted (during the storm), but (because it is so low lying) forb survives (all storms and seasons).