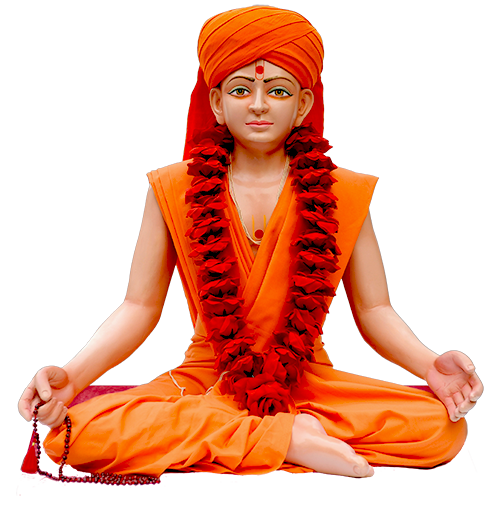 Anadi Mahamukt
Shree Gopalanand Swami
Birth Day
Monday, Maha Sud 8, Vikram Samvat 1837 (1780 A.D.)
Birth Place
Torda, Dist: Sabarkantha, Gujarat, India
Parents
Mother: Jiviba
Father: Motiram Thaker
Childhood Names
Khushal, Khushal Bhatt, Khushalbhai
Education
Primary Education in Mutedi Village and then went to the famous ancient education town of Kashi in the northern India to pursue higher studies in Vedas to be conferred with the honour of "Ved-vedant Parangat Vyakran Kesari.
First Meeting with Bhagwan Swaminarayan
After having completed his formal higher studies, when Khushal Bhatt was on pilgrimage of India, he happened to meet Bhagwan Swaminarayan in Badrinarayan, who was then on his pilgrimage as Neelkanth Varni. During their brief interaction, Neelkanth Varni revealed, ' I will be reaching Loj village and then will have the formal initiation in Vikram Samvat 1856 through Guru Ramanand Swami. Later in Vikram Samvat 1859, on Kartik Sood 11, I will come to receive you in the Achleshwar Mahadev Temple of your village.
Family
Wife: Adityaba
Children: Son: Harishankar; Daughter: Anopba.
Formal Initiation into the Sainthood
Kartik Vad 8, Vikram Samvat 1864
Rechristened as
Gopalanand Swami
Scriptures Authored
Gujarati
Varta Vivek, Advait Khandan, Updeshi Vartao, Pooja Paddhatina Pana, Bhaktisiddhi Bhashantar and Sampraday Pradip.
Sanskrit
Vivekdeep, Vishnuyag Paddhatti, Poojavividh, Bhaktisiddhhi, Haribhakta Namavali, Brahmasutrarth-deep, Ishadi Upanishadbhashya, Sri Bhagvad Gita Bhashya, Shukabhipraybodhini Tika, Gudharthbodhini Tika, Krishanbhipraybodhini Tika, Shrityarthabodhini Tika, Anvayartha Prakashika Vyakhya, and ShandilSutra Bhaktiprakashika Tika
Miraculous Divine Power
Sadguru Gopalanand Swami was a Yogi with great powers. He had attained one of the most difficuilt Ashtang Yoga. Gopalanand Swami had used his divine powers on many occassions for the well-being of the devotees and to consolidate their faith in Satsang. These included famine-relief, Samadhi and eclipse postponement.
Divine Valediction
At the age of 71, the Physical body of Swami Gopalanandji bade farewell to this world in Vikram Samvat 1908, Vaishakh Vad 5 in Vadtal.